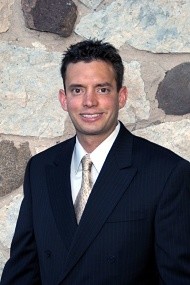 I am a CERTIFIED FINANCIAL PLANNER™ professional with over fifteen years of experience. My goal is to provide families, business owners and their employees with assistance in building their financial freedom.  I am committed to designing and implementing financial strategies that focus on my clients' needs.  I strive to attain these goals by providing comprehensive planning for families and business owners by focusing on tax saving strategies, retirement needs, investments, insurance and legacy planning.  My personal goal is to become a lifetime resource for each and every client.
I am an advocate for my clients and my profession.  As an advocate for my clients, I continuously keep my saw sharp by educating myself and earning professional designations so I can provide the best advice for my clients.  As an advocate for my profession, I am the ethics chairperson of the Financial Planning Association, Northeast Wisconsin Chapter and a member of the Estate Planning Council of Northeast Wisconsin.
MY VALUE PROPOSITION AS YOUR FINANCIAL ADVISOR
I am deeply interested in what is most important to you.
I will invest all the time it takes to fully understand - and to empathize with - your personal financial hopes and fears. I will respect your feelings on these matters, simply because they are your feelings.
I'm not the universal expert; I'm more of a wrangler of experts. I will work with the full panoply of the technical resources and personnel at my command to find solutions best suited to your personal situation. But no one will ever understand that personal situation better, nor care about it more, than I do.
I will also seek the solution which is simplest, most efficient and most effective for you. I will never ask you to implement that solution unless and until you fully understand it and believe in it, which are not two ways of saying the same thing.
Designations and Licenses
Registered Representative of SagePoint Financial

CFP® - CERTIFIED FINANCIAL PLANNER™

 professional

CLU® - Chartered Life Underwriter, designation

CASL® - Chartered Advisor for Senior Living, designation
Click the links below to watch three short videos of myself speaking about retirement income. Enjoy!
Retirement Income Mt Everest Part 1
http://www.youtube.com/watch?v=f7ohiM_zcj4
Retirement Income Mt Everest Part 2
http://www.youtube.com/watch?v=i79lrUv4-_w
Retirement Income Tree
http://www.youtube.com/watch?v=Uw2jnheLXd8
Do you know how much money it is going to take for you to retire comfortably AND to remain comfortably retired?
I would like to sit down with you and help you figure this out - understanding that there is NO cost or obligation to you. Please call me at (920) 569-8363.
This calculator can help you estimate your annual federal income tax liability.

This calculator can help you determine whether you should consider converting to a Roth IRA.

Estimate how much would remain after paying income taxes and penalties if you took an early distribution from a retirement plan.

Estimate the annual required distribution from your traditional IRA or former employer's retirement plan after you turn age 70½.